Welcome to Part 2 of our blog series about AI, written by our friends at Yes Consulting. Part 1 covered what AI is, with a semi-technical explanation with examples of use cases and tools used across this industry and others. Now, part 2 will explore how AI can be used in the Hospitality sector, showing the more widespread use cases of AI tools in this sector with examples, including content, imagery and guest communication.
AI has been developing rapidly in the background, and as expected large corporations have been at the forefront of this, having large datasets to work from. 
There are many uses, and the most prominent and popular are listed at the end of this document, however, in holiday rentals, some are having an immediate impact and we have expanded on these below.
Content
Imagery
Guest Communication
Content is King
AI tools have rapidly been adopted in short-term rentals, particularly by marketing departments and guest-facing teams. In marketing, the capacity to create faster and more eloquent prose for blogs and posts is supported by free image generation of their creation (although it has copyright issues all of its own). Guest communication through chatbots and even verbal language models permeate the industry through Saas businesses and using "Context Analysis".
Below is an example of instant content creation using ChatGPT4. When asked about the surfing experience around Newquay this was one of the results and took 30 seconds, complete with titles and bullet points. It would need checking, editing and embellishing with more profound and current local knowledge, but provides a foundation for creativity.
Best Surfing Spots:
Fistral Beach is renowned as Newquay's surfing destination, not in the UK but possibly beyond. It consistently delivers waves for both beginners and experienced surfers.
Watergate Bay; As another option, this beach offers an expanse of sandy shore and tends to be less crowded than Fistral. It's also a spot, for windsurfing enthusiasts.
Towan Beach; Located in an area, this beach is ideal for newbie surfers and generally offers protection from strong winds compared to Fistral Beach.
Porth Beach; If you prefer a quieter atmosphere while building your confidence on a surfboard, Porth Beach is the choice.
Crantock Beach; For those seeking an escape from the crowds and less intense waves, Crantock Beach provides an alternative.
Types of Surfing Experiences;
Beginners; Surf schools often provide lessons for beginners along with equipment rental. You'll start with the basics on land, focusing on safety measures paddling techniques and learning how to catch a wave. Once you're ready you'll venture into the shallows to put your skills into practice.
Intermediate & Advanced; For surfers renting a board and wetsuit is all it takes to tackle those thrilling waves. However, lessons are also available if you want to enhance your skills as an advanced surfer.
Family Surfing; Some surf schools offer packages for families, making it a fantastic activity for groups.
Group Surfing & Surf Camps are ideal if you want to meet people or travel with a group. Surf camps often include accommodation, meals and multiple surf sessions.
Equipment; Most surf schools provide equipment rentals, including boards and wetsuits. If you have experience, consider bringing your board. However, this can be challenging if you're travelling a distance.
Safety; It's essential to follow the instructions given by lifeguards and instructors. Understanding surf etiquette and right-of-way rules ensures that everyone has an enjoyable experience. Paying attention to tide and weather conditions is crucial well. If you ever feel uncertain, feel free to seek guidance from surf schools or lifeguards.
Experiences; Surf Competitions; During the summer season at Fistral Beach, competitions, including the renowned Boardmasters festival that combines surfing, skateboarding and music, often occur.
Surf Photography; If surfing isn't your thing but you enjoy capturing moments on camera, photographing surfers catching waves can be particularly captivating during sunrise or sunset.
Stand-Up Paddleboarding; For those who find surfing intense stand-up paddleboarding is another popular water activity in Newquay that you might want to try.
Whether you're new to surfing and eager to catch your wave or an enthusiast in search of the ultimate thrill, Newquay has an array of options that cater to surfers of all levels.
As Google claims to consider ranking content based on EAT (Expertise, Authority and Trust), using AI may seem like a cheat. Hence, companies may rewrite the content using a tool like "Wordtune" and check the words and phraseology with "Grammarly". The acid test is to then determine if Google sees this as AI-created. Companies use AI detection tools such as undetectable.ai (confirmation image below), which evidences this slightly modified text above as human-written! Even if 95% of it isn't!
A picture is worth a thousand words
Without images, content is less identifiable and does not generally offer the same potential experience. Adding an image gives immediate relevance and can capture the imagination. This, followed up with great content, can pull potential guests to the property portfolio.
Using stock library photos can be expensive. Taking photographs off the web without permission can sometimes see copyright challenges and threats of legal action for their use. 
When searching for photographs or images, that perfect picture may be hard to come by or very expensive. This is where AI image generation is seeing extensive use. 
This photo above and the one below are also AI-generated. The image of a girl considering her next surfing move would work alongside the AI text above.  The cottage on the beach was created with "Stockimg", and the one below with "MidJourney", using a photorealistic command emulating a Canon Digital SLR with a 35 mm lens!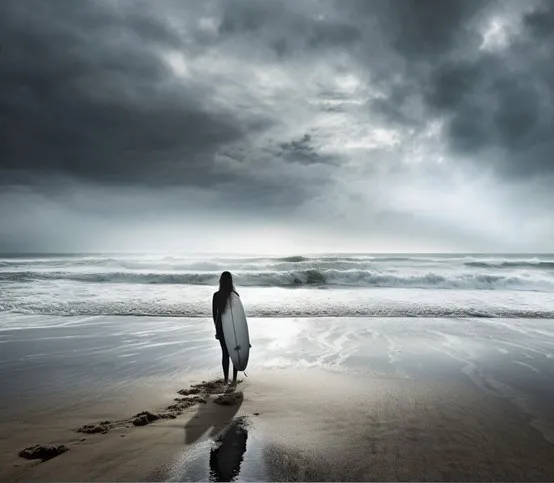 Guest Interaction
Despite many companies' best attempts to reduce guest interaction for fundamental issues, human elements occasionally confound us. Some are based on expectation, some on lack of understanding of the rental world, some loss of data, and some simply laziness. They all, however, require follow-up especially pre-booking, post-booking, pre-arrival, in-stay and post-departure attention. Automated emails and messaging systems help deliver across multiple communication channels and have been used for years but are now taking advantage of AI, guest and accommodation data to amplify and streamline messaging and delivery.
Contextual AI equips a company's systems to process information similarly to human cognition. It goes beyond mere data statistics to understanding keywords, sentiments, cultural nuances and particular circumstances. This comprehension approach empowers AI to deliver more prosperous, pertinent, and precise results.
As an example, how many of your guests ask questions about:
Check-In
Check-Out
Access
Smoking Policies
Barbecues, pools and jacuzzis
Energy costs
Pets
Directions
Swimming Pool
Number of Guests
Internet access
You already have many answers, but guests may not just straightforwardly ask a binary question, it may come with emotion, anger, confusion and continuation of a dialogue jumping in context and complexity. AI is ideally suited to this environment and can initially replace the challenges support staff face.
Websites such as "Chatbase.co" offer a tool that will scan your website or read and analyse your files so that a company can create its intelligent chatbot to take information and offer primary solutions before handing it off to customer service. These can be embedded on company websites to provide questions and answers based on previously created content. With peak season always a pressure cooker and staff at breaking point, adding some "intelligent" automation and out-of-hours support makes sense.
The immediate adoption trends in STRs
As AI becomes more mature and accessible, the STR industry is expected to adopt more AI-driven solutions for dynamic pricing, property maintenance, and customer personalisation, making the guest or host journey more streamlined and personalised and the whole process from look to more optimised and streamlined. 
However, AI systems are frequently seen as mysterious or "black box" entities, the inner mechanics are unclear to those without specialised knowledge. This can result in caution or hesitancy to implement AI-based solutions, as property managers and owners might need more faith in these systems' suggestions and test them to exhaustion before adopting them.
The challenge is always one of scale. Large corporations can quickly adopt, adapt and benefit from the evolution of AI. The smaller the company, the more reliant on distributed services it becomes, but these services benefit from aggregated learning from multiple clients. They may provide more of a level playing field. A headline overview of the rapidly growing systems available falls into 3 categories:
Large Language Models (LLMs): Tools like GPT-4 are gaining attention for their potential in customer service, content generation, and sentiment analysis. Marketing departments, administrators and technical services are benefiting substantially from LLMs already. 
Industry Collaboration: PMS integrations for security, dynamic pricing, FAQs, guest and internal communication, property entry, security checks etc. are all currently being developed and seeing tools to create efficiencies and services. Even review analysis combined with automated bots and messaging begins to reduce the human factor!  Check your PMS integrations!
AI-powered Smart Homes and IoT: Smart Homes require asset control and STRs have complex ownership issues. However, multi-asset control is witnessing integration with IoT devices which automate tasks, improve energy efficiency, enhance guest experiences and allow remote management. Saving that trip to switch on the heating the cleaners forgot to do is a cost saving. Add in predictive maintenance, and operational planning is improved. Cameras allow facial recognition for check-ins, and environmental monitors provide data and training on guest habits.
AI Caution
Implementation of AI can be challenging. With the growth of AI, there's an increasing focus on ethical practices, including transparency, privacy, and fairness in both B2C and B2B business. This industry is in its infancy and has many challenges and opportunities.
In all situations, many concerns, such as data privacy, need addressing by all industries. AI often requires large datasets, raising concerns about privacy and security. Also, if the data used to train AI contains biases, the AI can perpetuate or amplify those biases, so care needs to be taken.
Richard Vaughton