Jude Kereama, Sham Mulji and Fiona Were are among the Cornwall-based chefs revealing some of the tempting new flavours and ingredients on menus in 2022. From St Ives Bay Mackerel to sweet Melder honey, hand-dived scallops and sustainably reared beef, take a culinary tour of the county with some of the most talented chefs working here today…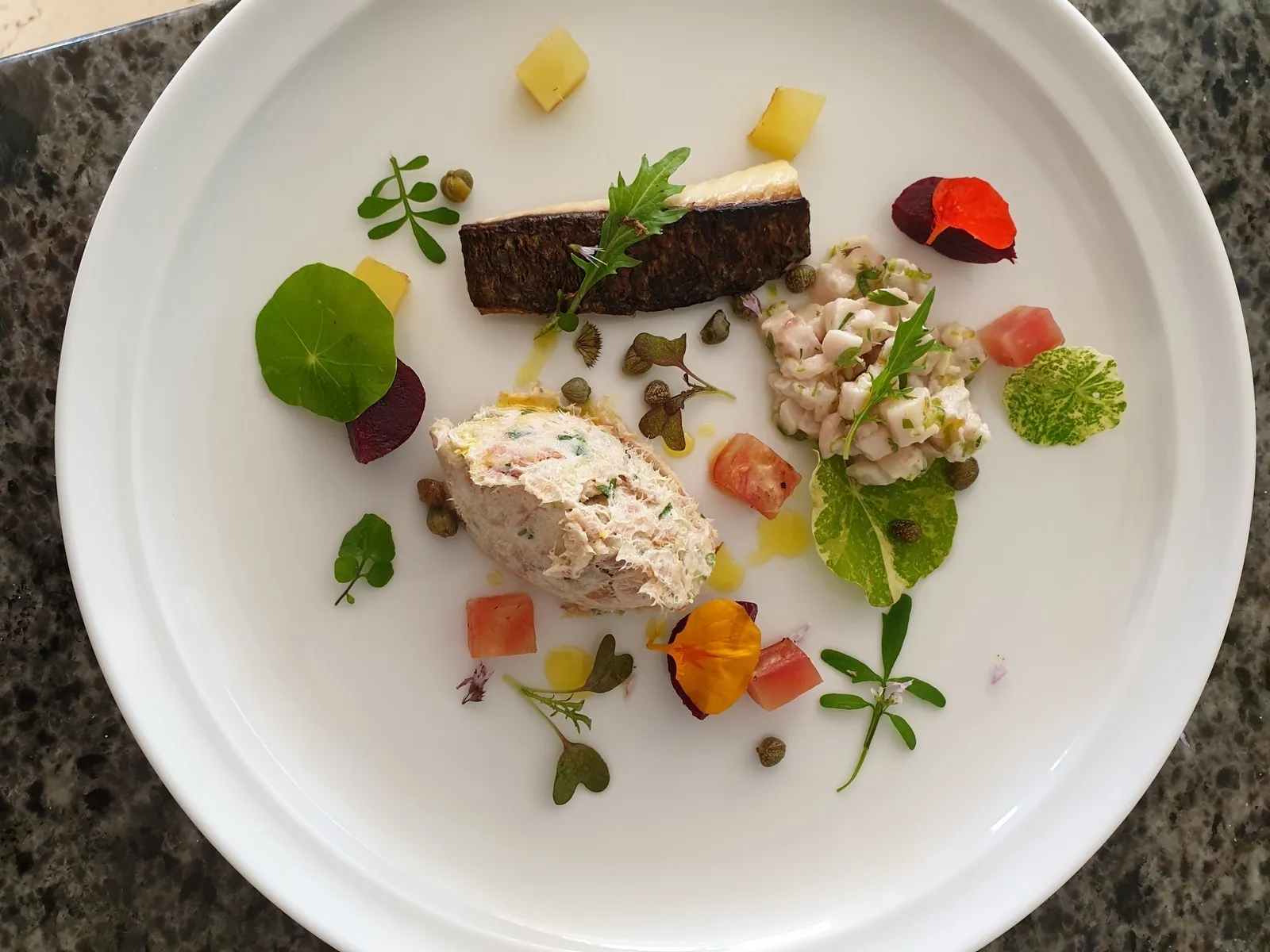 Food pictured: Chef Fiona NZ
Touted as one of the '10 female chefs to watch' by The Independent, Fiona Were is taking the Cornish private dining scene by storm. Drawing on her New Zealand roots, classic French training and Asian influences, Fiona travels throughout Cornwall offering her bespoke dining experiences – from intimate dinners à deux to exquisite group tasting menus.
"The ingredient that I'm most excited about using for 2022 is the fantastic seafood that Cornwall has to offer, in particular, hand line caught, St Ives Bay Mackerel. I just love the versatility of this beautiful fish.
"My dishes are always evolving with the seasons and mackerel is often a key feature. It pairs so well with many different flavours, from delicate to robust. I particularly enjoy accompanying this delicious, underrated, sustainably caught fish with herbs I may have foraged on one of my many ornithological forays or that I have grown myself, which add intriguing flavour notes.
"Every ingredient I use plays its own role on the plate. Sometimes less is more, but the flavours and colours are always fresh and intense. The possibilities are only limited by my imagination."
Jude Kereama, patron chef, Kota, Porthleven
Meaning 'shellfish' in Maori, Kota serves the best local produce with a signature Asian twist from a 300-year-old converted mill on the historic Porthleven harbour front. Half Maori, half Chinese Malay chef Jude Kereama is much-celebrated, having been named 'Chef of the Year' in 2019 and chosen to represent the South West in Great British Menu.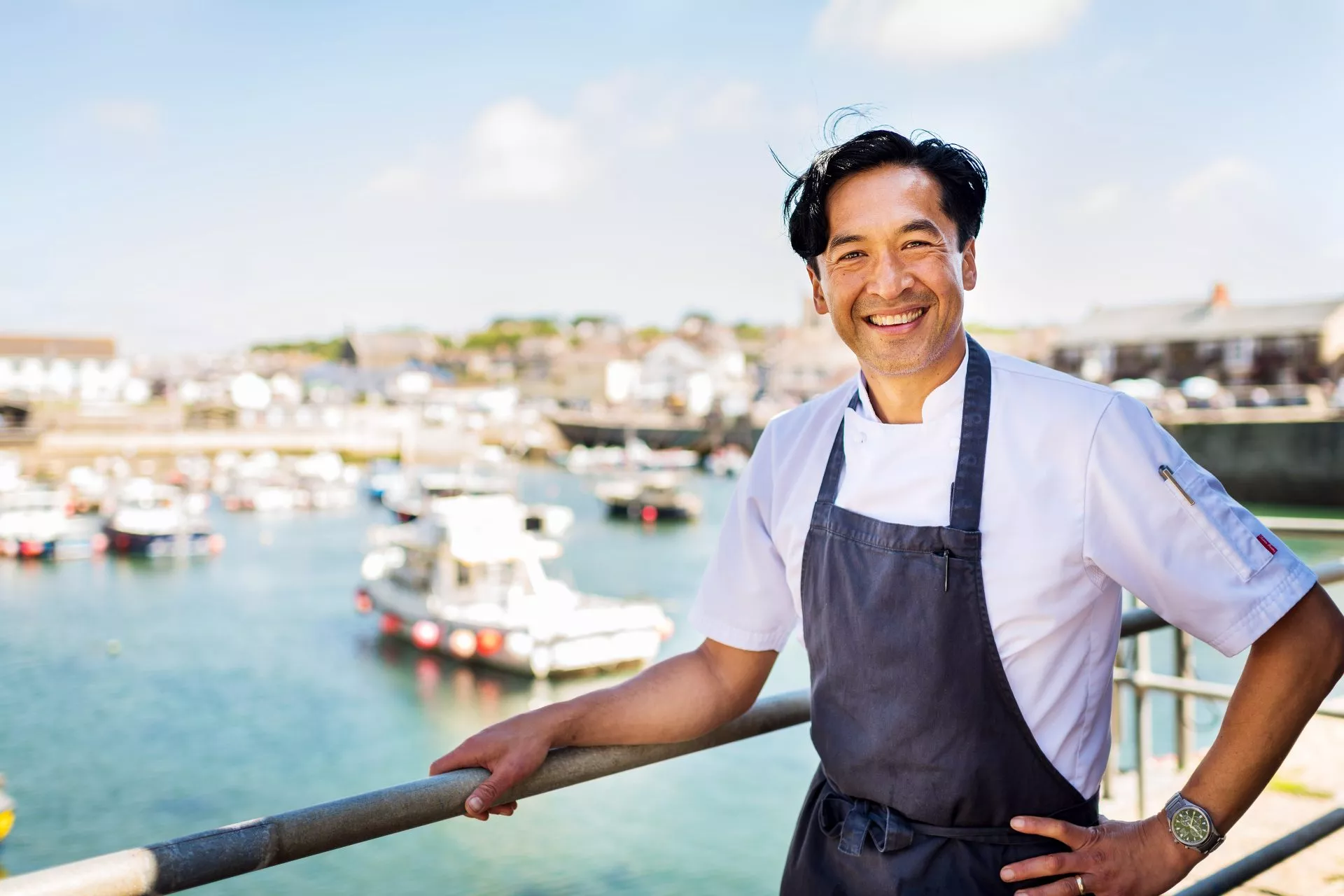 "We are looking forward to our new season tasting menu here at Kota, taking advantage of local produce that surrounds us in Cornwall. These include seared hand-dived scallops with xo sauce, crispy onions and venison tartare from a local venison farm which is the best I have ever used (West Country Premium Venison). 
"We will serve the tartare with apple, celeriac, hazelnuts and a gochujang dressing. We are also looking forward to producing from our own farm, which we are working on at the moment."
Find a Beach Retreat near Porthleven
Image Credit: Jude Kereama, Kota, photographer James Ram
Sham Mulji, chef/barista/owner, Situ Café (mobile)
With a menu spanning speciality coffee, masala chai and Gujarati, Ugandan and British fusion food, mobile canteen Situ Café is the brainchild of Sham Mulji – AKA the man behind the van. Visitors to Cornwall can sample Sham's flavours at local markets, pop-ups and his 'Eatery Evenings' – or bring the café culture to their dining room with private catering.
"When I launched the 'Eatery' section of the business last summer, I wanted to find the best, local, sustainable produce to continue our aim of connecting communities. I'm particularly excited to explore more of what Homage to the Bovine (grass-fed retired dairy cow beef) have to offer this year ­– building on their sustainable beef practices by using forequarter, shin, ox-tail, marrow and even pushing boundaries by cooking up liver and trotters.
"This is in keeping with our 'heritage food' style and, as a farming county, it's important we take a more sustainable, nose-to-tail approach when eating meat."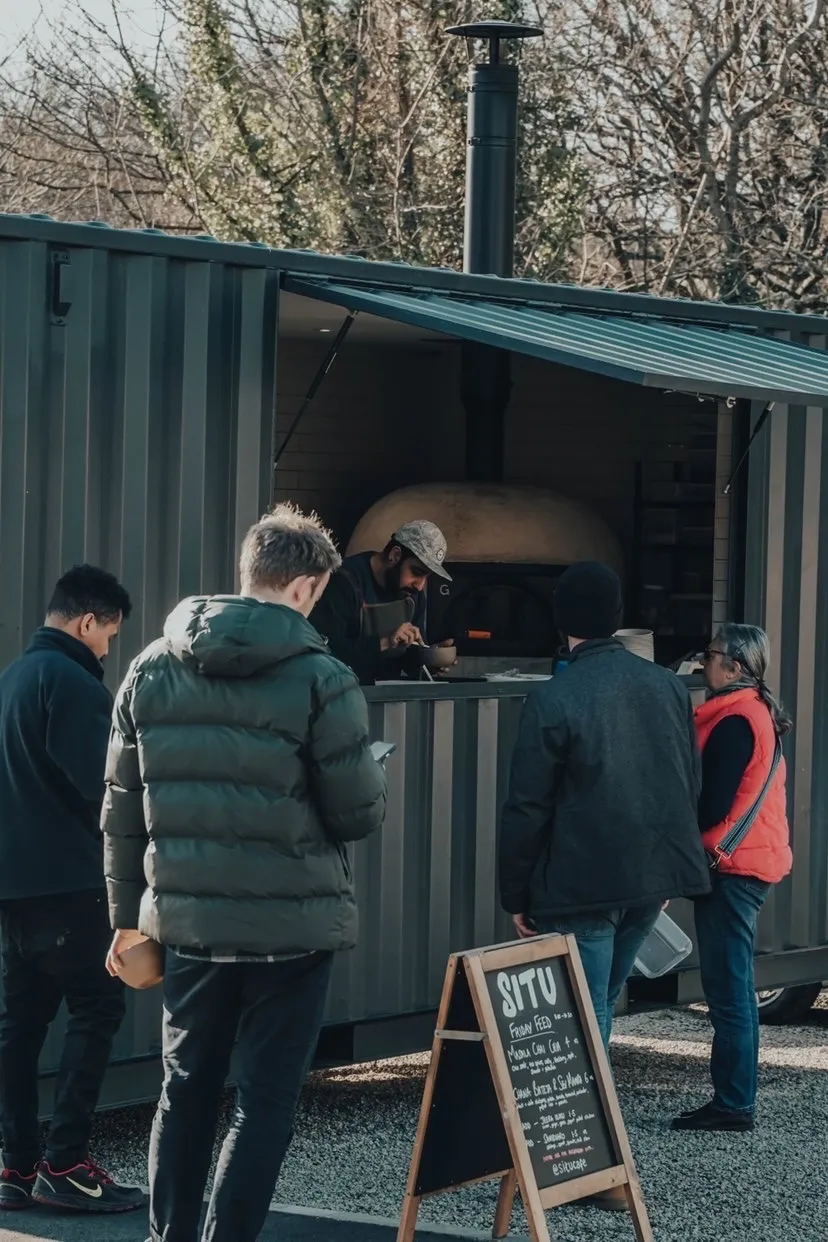 St Ives local and freelance chef Natasha Osborne creates unique dining experiences across Cornwall. Working closely with her clients to plan bespoke menus, Chef Natasha is just as comfortable rustling up a relaxed outdoor wood-fired feast as a refined tasting menu – and can often be found foraging in the Cornish hedgerows for new flavours.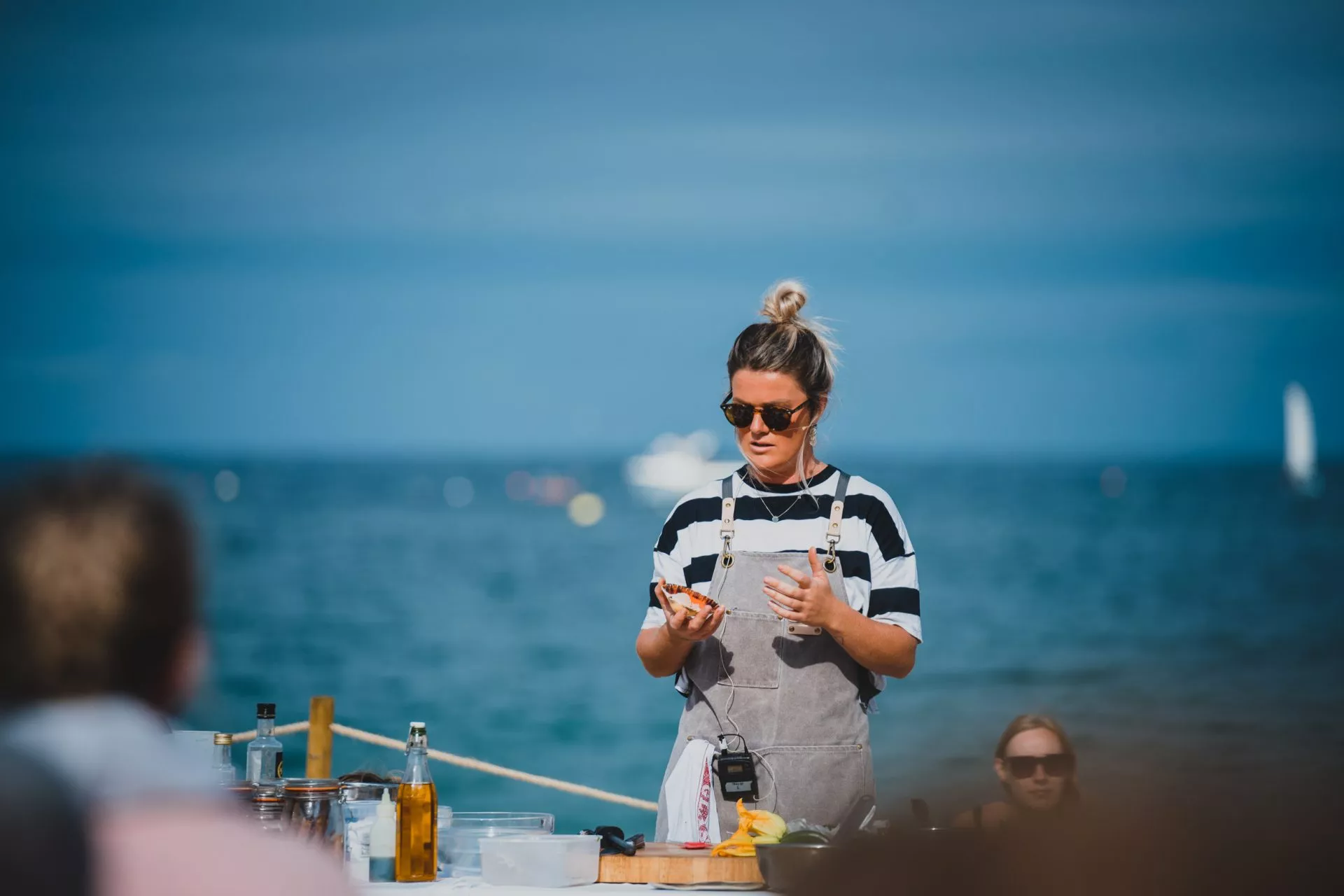 "I'm most excited about working with new local suppliers. Most recently, I've been daydreaming of a dish featuring Melder Honey, which is a honey that's really local to my hometown of St Ives. It's the best honey I've ever tasted and Toby the owner is so great to work with, often turning up with a truck full of bees and honey for me!
"I'm thinking of recreating a steamed sponge syrup pudding, traditionally made with golden syrup, which I will be replacing with Toby's honey and adding some blackberries too – perhaps a blackberry custard or crème patisserie. There's just something so good about an actual, old-school pudding."
Beach Retreats with room to host
Angus Bell, chef/owner, Restaurant Mine, Falmouth
Nestled in a cobbled courtyard favoured by Falmouth's arty crowd, Restaurant Mine is a cosy neighbourhood eatery offering a fresh take on classic British food. Le Gavroche-trained chef Angus Bell is the culinary mastermind behind a reassuringly concise menu of locally sourced ingredients.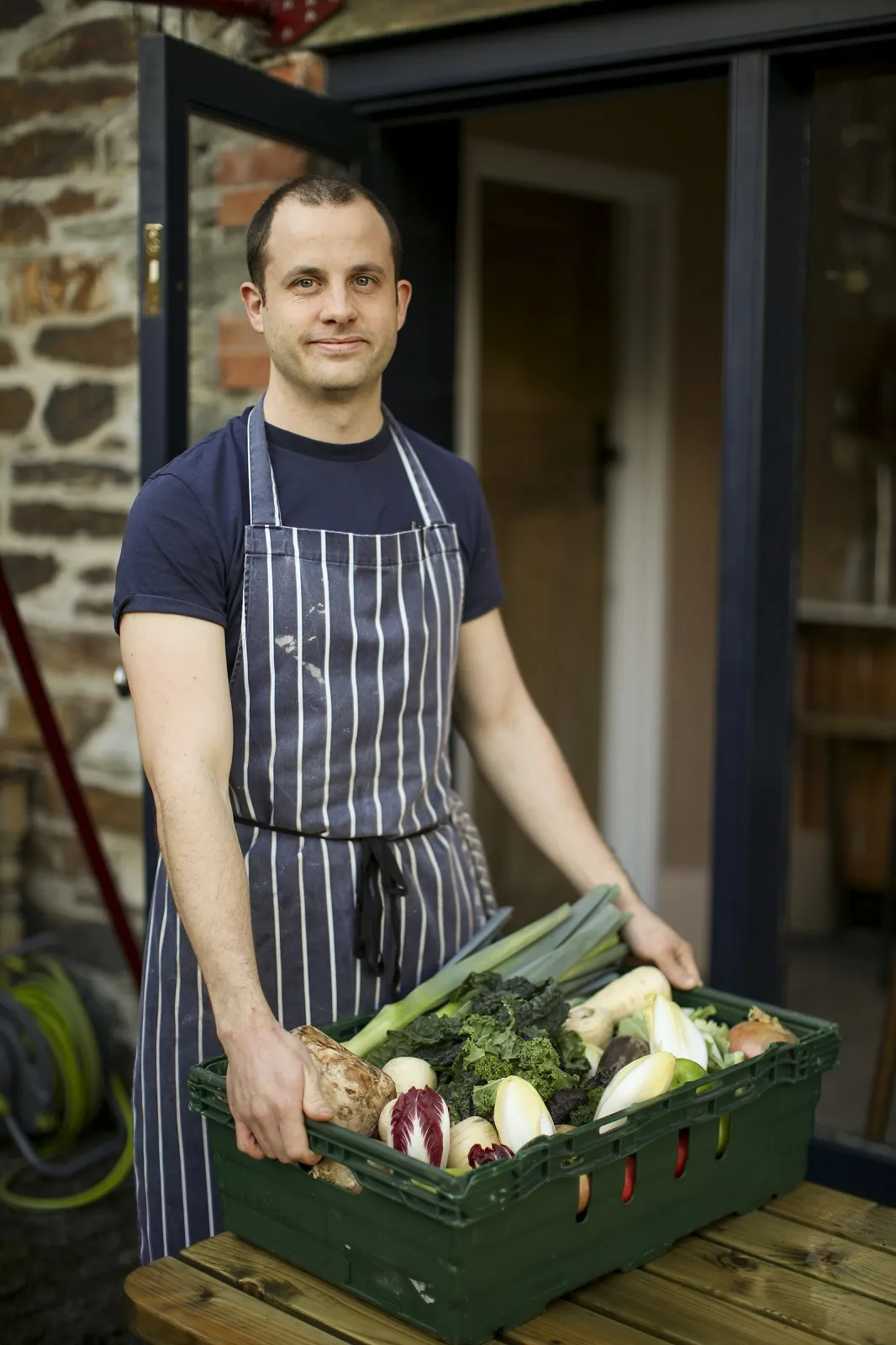 "I'm very passionate about the provenance of the produce we use. Everything in the kitchen comes from Cornwall, within as small a radius as possible.
"There are some incredible growers here, and I like to preserve the best of each season for use throughout the year.
"One of our suppliers has just harvested his Cornish lemons, which we have on the menu in cocktails and a lemon curd pavlova now and have preserved in salt for future salad dressings and sauces."