We caught up with our friends at EWWines, who've come up with a discounted case of wines to be delivered straight to your holiday home.
Summer time – the time to be active or kick back and relax. Cornish holidays are all about long coastal walks, sunset drinks, surfing and time outside in the fresh sea air reconnecting with friends and family.
To help with the excitement, we believe a new approach to wine is needed to accommodate your summer palate and seasonal food.
We're excited to introduce our coastal wine cases for Beach Retreats customers to enjoy whilst on holiday.  These cases are wines with a coastal influence, handpicked from around the world of wine. The coastal factor in wine terms often brings cooling influences to vineyards, which slows ripening significantly and helps to preserve natural acidity for you to enjoy in your luxury coastal retreat.  Choose Red, White or Mixed (3 White and 3 Red). Three fantastic opportunities to taste some of our hand selected range with fantastic savings for you, couriered to your door to start your holiday right!  Browse our coastal cases here. 
At checkout, use code BEACH22 to receive an exclusive 10% off these cases as a thank you. This enables our Coastal Cases to be couriered to your holiday property for £70.95, or utilise our click and collect service from our Indian Queens store for free, making your case just £63.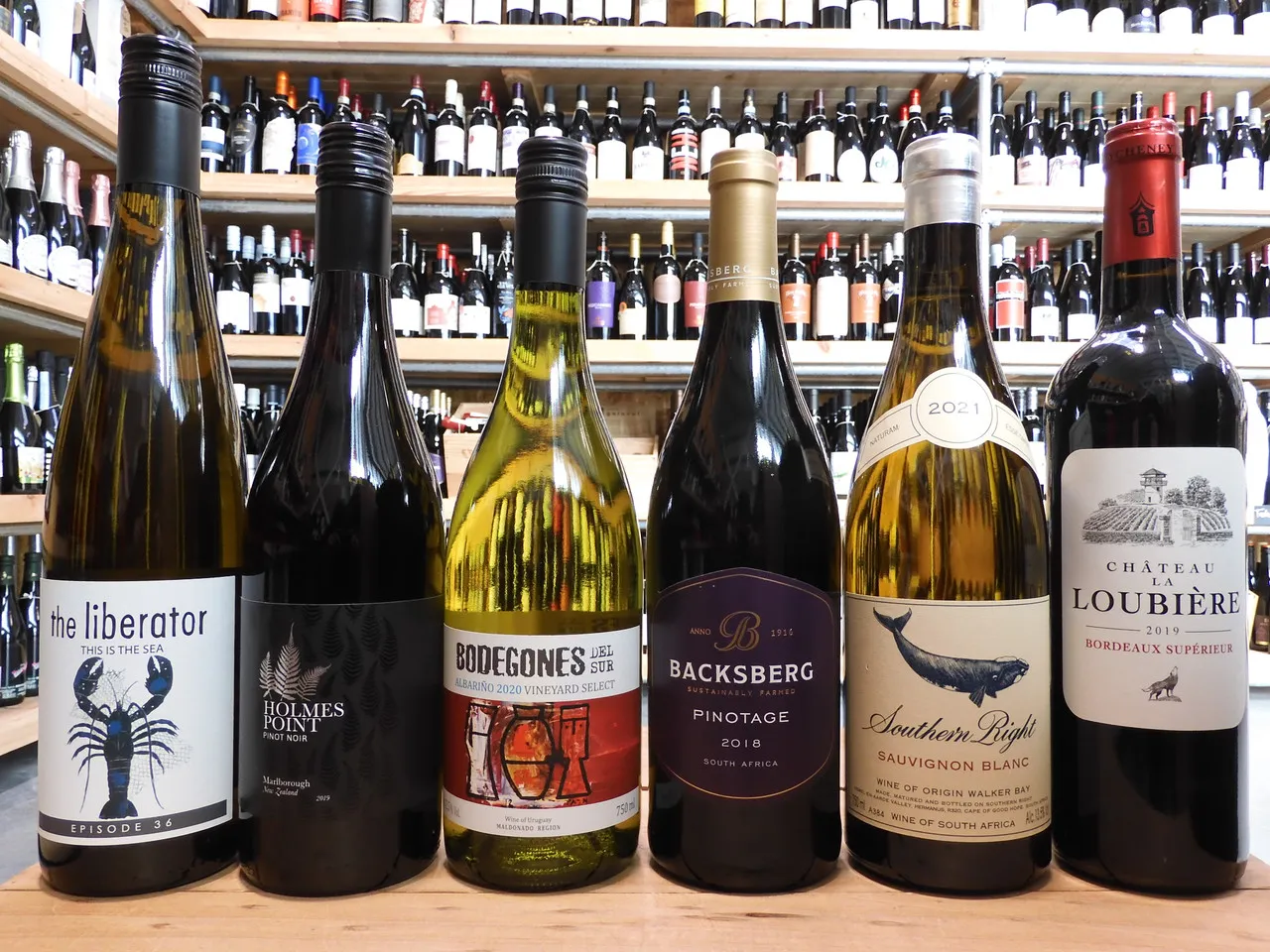 The Wines
Our first suggestion has got to be THE wine of the summer. Tiny, tiny production so grab yours whilst you can!  We're excited to introduce Lost in a Field "Frolic" Pet-Nat by Tim Wildman MW and winemaker Daniel Ham (Offbeat Wines). It's summer in a glass.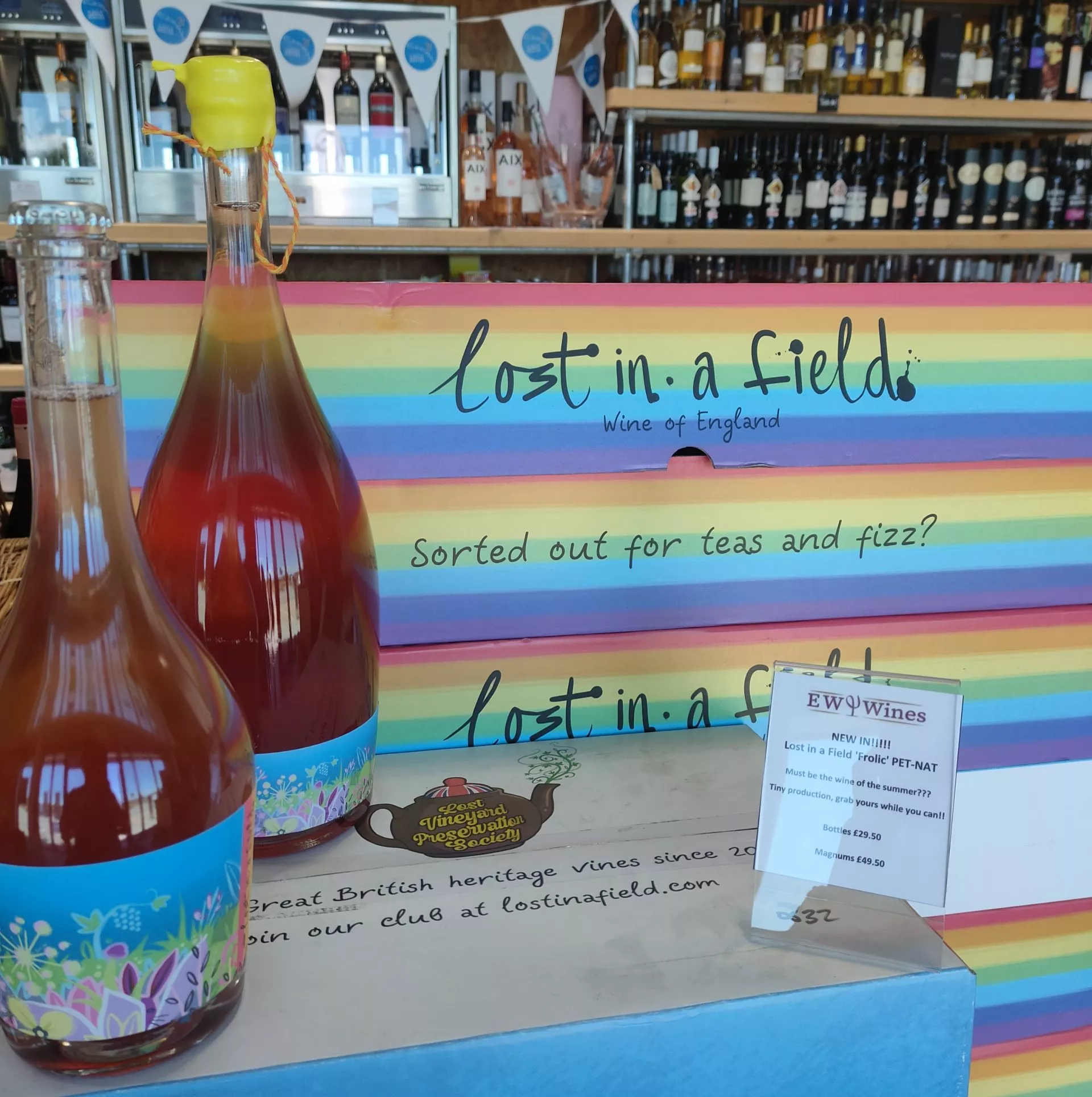 What is a Pet-Nat?  Short for pétillant naturel, this is an old method in which at its simplest the fermentation is interrupted and the wine is bottled and sealed which traps carbon dioxide as the fermentation resumes (hopefully). The wines are therefore mostly unfiltered with visible sediment and often lower alcohol and pressure than for example a traditional method sparkling wine such as Champagne are to be expected.
Frolic is an excellent addition to any mixed case and a welcome addition to a beach gathering or party.  This wine has a fantastic story and has firmly shined the spotlight on "British Heritage Vines" and celebrates small scale hobby vineyards at the same time, creating a community project, the Lost Vineyard Preservation Society.  Check out Jancis Robinson's recent article whilst sipping a glass of Frolic in the sunshine!
Another of our favourite tipples is Bosue Vineyard Rose 2019.  Paul the winemaker was recently in-store for a free tasting session, so we took the opportunity to ask a couple of questions because they too do things a little differently. We discovered that their tiny 550 bottle production of this wine is 100% Regent, a modern hybridised variety mentioned above with no reserve wine. Paul riddles and disgorges by hand in small batches. Riddling and disgorging started in April 2022.  This means there is almost two years on the lees, more than double the requirement for wine labelled "Quality Sparkling Wine" in England which adds a subtle character to the wine of toast and pastry. Rhubarb, cranberry, redcurrants and tart raspberry on the nose with a delicate rose and leafy character and the toasty layers too. The acidity is high and the red fruits are crunchy and bright, almost like biting into a crisp pink lady apple.  Super refreshing on a summer's day with a little sweetness on the finish.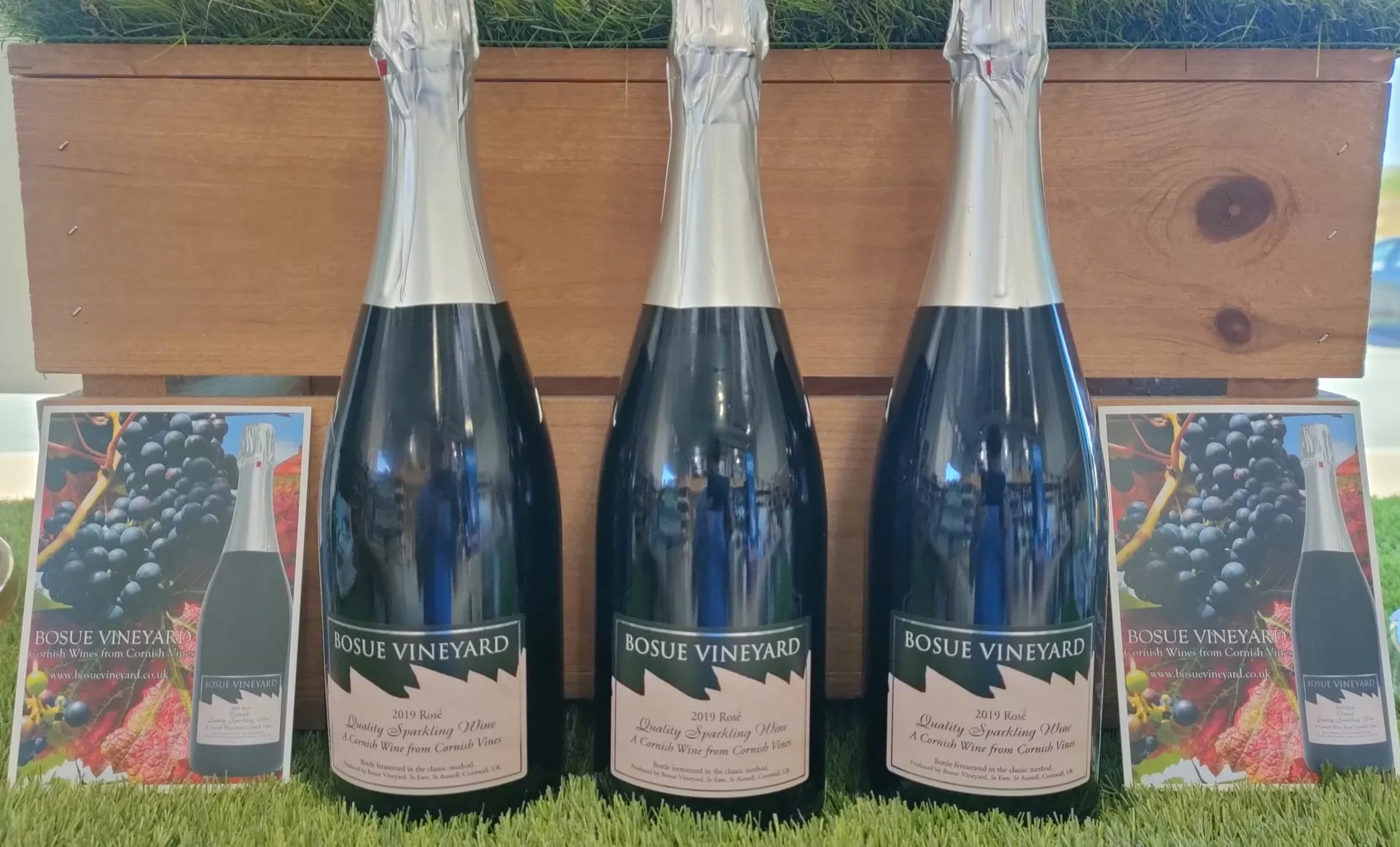 We also have an incredible range of spirits, with something for every occasion from premium Mezcal, Rum, Whisky and much more. However, a gin that we could not recommend highly enough is the Loveday Golden Hour Gin.  This is a pink gin like no other, delicious, fresh, bitter-sweet, and a little floral. Our perfect serve would be over ice, with a premium tonic of your choice and a slice of grapefruit whilst watching the sunset.
Another gin which screams of summer to us is the Wrecking Coast Clotted Cream Gin. It's made with 100% Cornish strawberries freshly pressed from the renowned strawberry fields of Boddington's Berries, with no added sugars, flavourings or sweeteners. Our Perfect serve: pour over plenty of ice and top with either an elderflower tonic or lemonade, garnish with fresh sliced strawberries and allow the flavours to combine so you can enjoy the taste of summer in your glass! 
Our Wine Emotion machines have been repaired and reloaded with 16 wines, with summer in mind. We've wines from the Loire, Greece, Italy and Chile, just another reason to come in-store and taste with our in house WSET Certified Educator, for free. Why not discover something new, or revisit an old friend?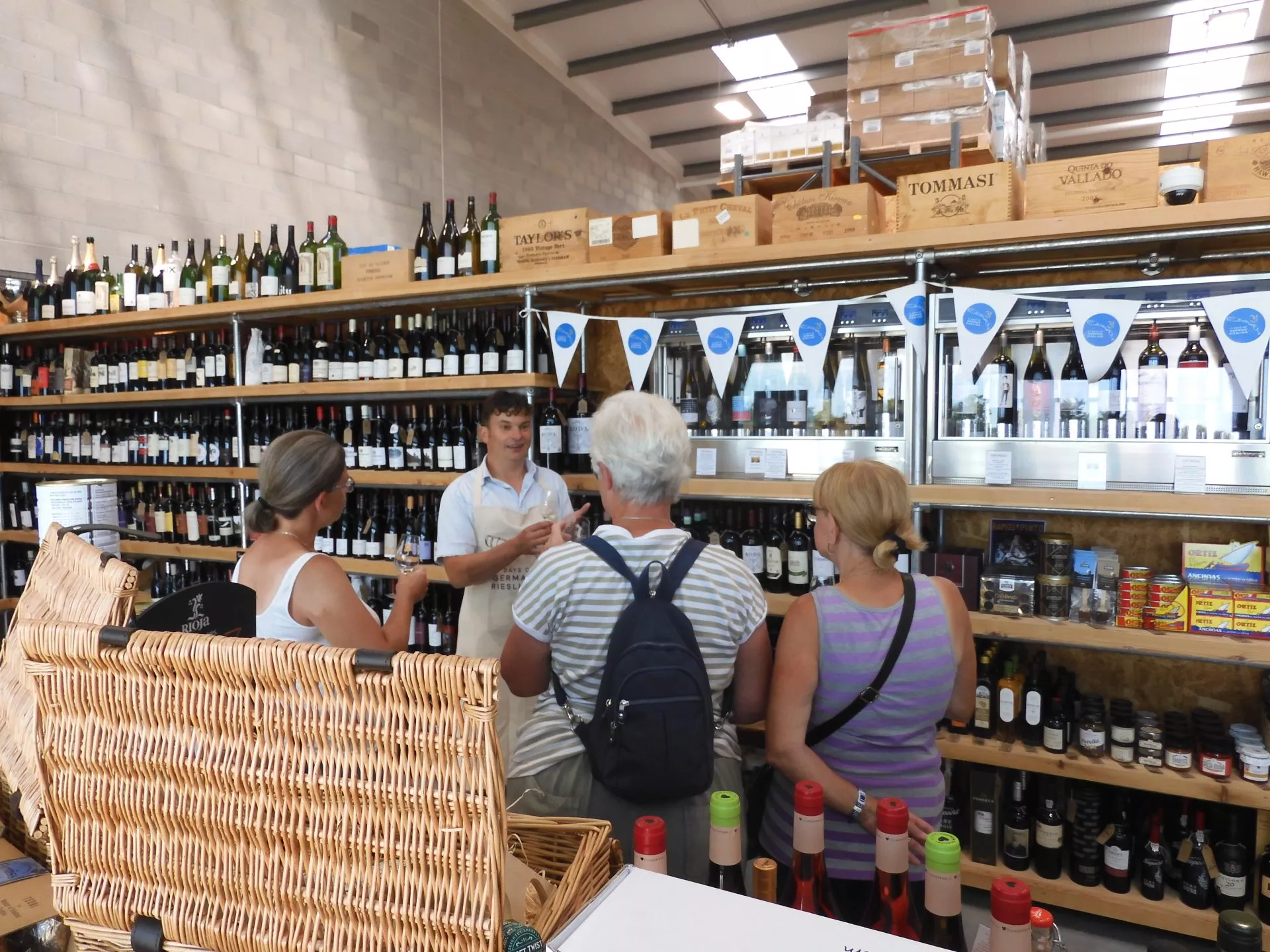 Tasting Sessions
In August we continue our Free Producer Tasting series with a Cornish brand in-store most Fridays or Saturdays! 
Sat 6th Aug, Rosemullion Distillery – Andy, 10:30am to 5pm
Fri 12th Aug, Wrecking Coast – Avian, 12:30 to 5pm
Sat 20th Aug, Curio Spirits 12:30pm to 5pm
Summer Dish Ideas
Here's a few of our favourite summer dish ideas with a wine suggestion or two from our hand selected, extensive range;
Barbecued Lamb, new potato salad, garden greens. We recommend shoving garlic cloves and rosemary into incisions across your joint, rubbing in olive oil and a generous pinch of salt and pepper before BBQing at approx. 180 in a roasting pan with a generous glug of red wine until the meat is at 60 degrees, and rest for 15 mins. Pair with something that starts with fruit and finishes with pepper, such as cooler climate Syrah. Or, for something with bolder fruits and a fresh herbaceous lift to finish choose from Cabernet Sauvignon or a Cabernet style Zinfandel. If the sun is shining, a quality Provence should also not be overlooked. The Garriques or dried herbs and red fruits will complement the lamb very well indeed. AIX Provence Rose from Maison Saint AIX would be a fantastic pairing. It's tasty, generous and elegant too. Your only problem is you might need a larger format (We stock 3L Double Magnum bottles too!) because it's a perfect wine to drink all day long!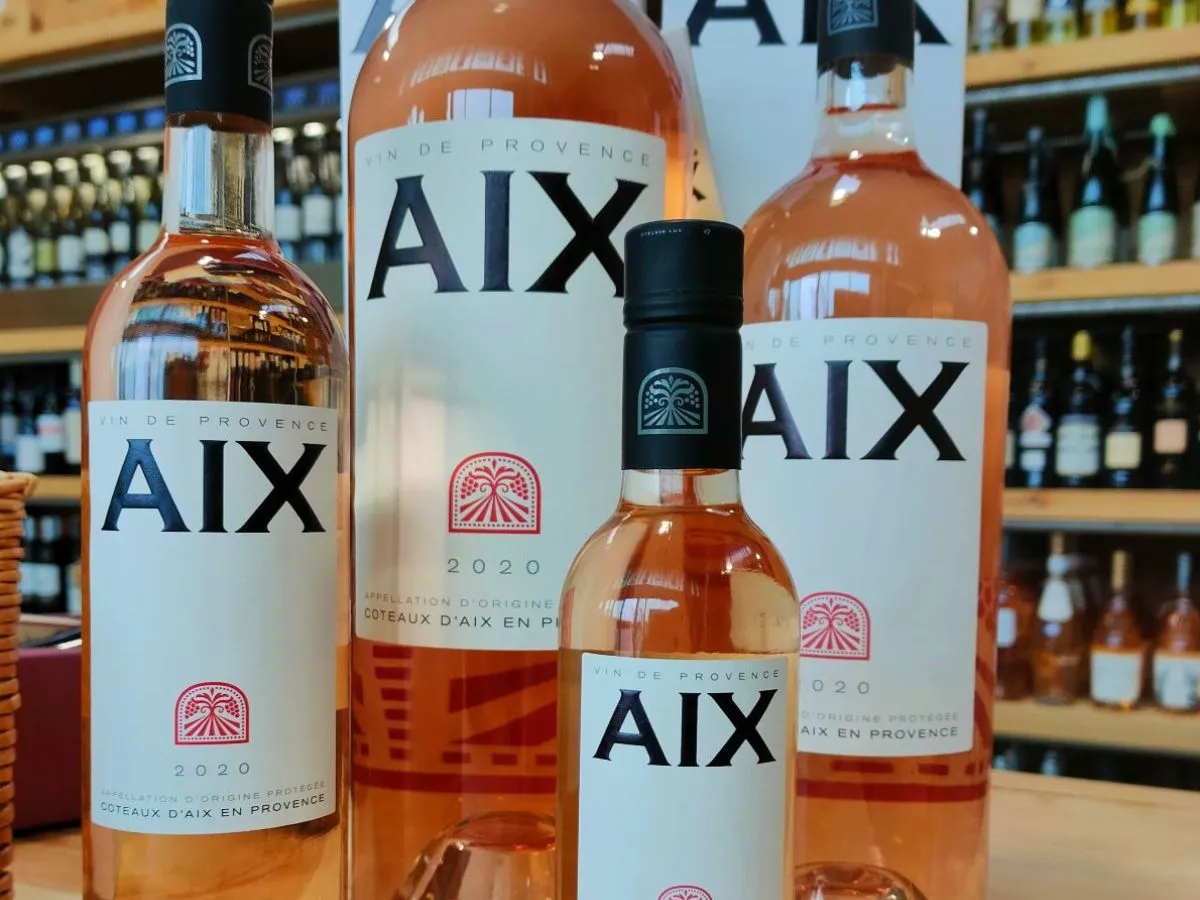 Try a Tabouli packed with garden peas, summer chard or spinach, courgette, cucumber, dill, parsley and a touch of goat's cheese crumbled on top. Our perfect wine suggestion would be the new in Cote Mas Sauvignon Blanc Vermentino 2020 to complement the dish perfectly. With unique aromas of flowers, peach and pear, it's generous on the palate, just like the sunshine that blesses it's vineyards! The rich flavours pair perfectly with the earthy quinoa and floral, citrus and herbal notes perfect with the summer vegetables and the bright acidity from the Sauvignon Blanc cuts through the goat's cheese. This pairing is so delicious it'll keep you reaching for your glass!
Browse our beach locations to find your perfect retreat and favourite beach to sip your wine on, and keep an eye on our special offers page for the latest discounts.