Longer days full of spring sun, perfect for outdoor evening dining with your toes in the sand, even if it's not quite barbecue weather. Living to the beat of the ocean, a pebble's throw from the shore, a Beach Retreats kitchen is the perfect place to whip up a gourmet feast you can take to the beach. Tempted?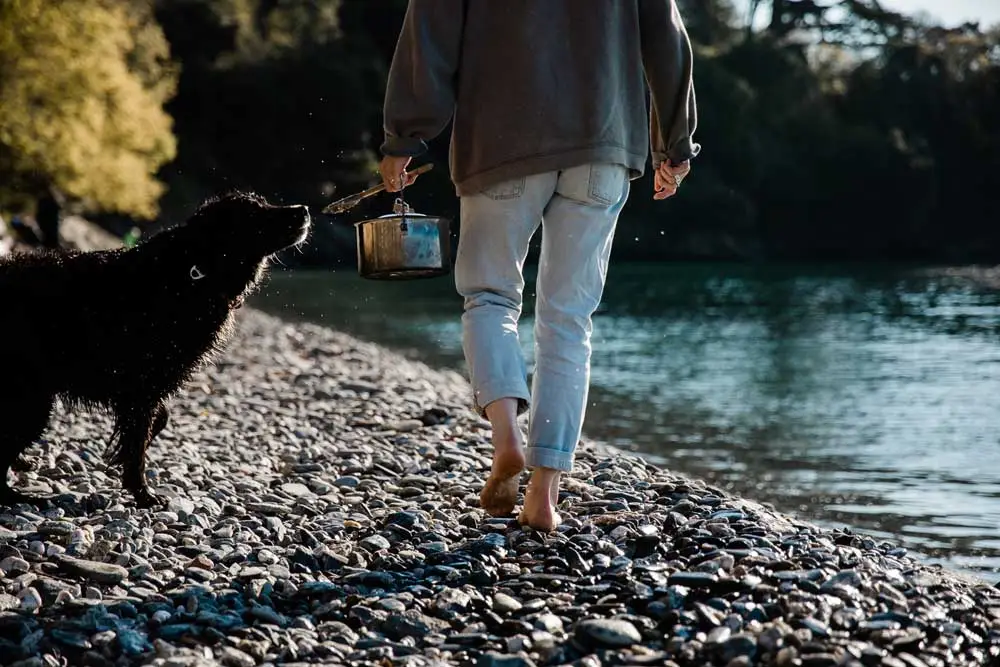 Cook up one of these recipes from chefs around Cornwall and carry down to the beach for an end of the day alfresco meal beside the waves. There's something for everyone, from a Cornish crab centrepiece to beach-ready pizza. Just remember, leave enough room in the bag for beach blankets and wine.
SMOKED CHICKEN WITH SALSA VERDE POTATOES
Canteen
Newquay Community Orchard; St Agnes
canteencornwall.com
@canteencornwall
Who said roast chicken is best enjoyed at the Sunday dinner table? With his sociable dining, seasonal ingredients and sustainable ethos, chef Ben Quinn has a firm following. Taking field to fork to a new level at his new venue in Newquay Orchard, much of the produce comes from the market garden just footsteps from the kitchen.
"Cold smoked chicken is one of my favourite dishes. On holiday you've got time to smoke this on the BBQ or even roast it in the oven the day before. Then tear and share it on the beach with crusty bread and salsa verde potatoes. It's a real feast that doesn't need to be eaten at home." Ben Quinn
Smoked Chicken
You will need a BBQ with a lid or simply roast in the oven.
Ingredients
Whole chicken (the best quality you can afford)
100g table salt
50g caster sugar
3kg decent charcoal (if you're barbecuing)
150ml cider vinegar
30g soft brown sugar
Cook it up
Get the chicken out of the fridge and season liberally with salt and caster sugar.
Leave at least an hour at room temperature or overnight back in the fridge, if you're
organised.
Get the chicken out an hour before cooking and set up the barbecue in an offset
position (fire on one side so the food can go on the other side), or warm up the oven
to 180C.
Once the oven is hot, or the coals are white and hot, add the chicken (in the BBQ on
the side with no direct heat. The indirect heat will cook the chicken with the flavour of
the smoke.)
Put the lid on the BBQ and leave it alone. Or pop it in the centre of the oven and do
the same.
Salsa Verde Potatoes
Ingredients
50g basil (picked)
50g mint (picked)
50g flat-leaved parsley (picked)
20g tarragon (picked)
1 tsp capers
1 gherkin (diced)
1 clove garlic (crushed with salt)
150ml olive oil
50ml cider vinegar
800g new potatoes
Cook it up
Chop up the fresh herbs finely and put them in a bowl that will fit all the ingredients
including the potatoes.
Add the rest of the ingredients and stir. Taste, then add more oil, vinegar or salt until
it is popping inside your mouth.
Add the potatoes to boiling, salty water and boil for 20 minutes.
Check the potatoes with a sharp knife (in and out, and we are all good), then drain
and allow to steam and cool a little.
Add them to the salsa verde until well coated and the room smells like herbs.
Repeat after me: "I dress my potatoes when they are hot." When you do this, it will bring joy.
 MACKEREL FLATBREAD – 'The Mac Dough'
Ansum
Roaming food from the fire – Watergate Bay, Mawgan Porth and across Cornwall.
ansumfoodco.com
@ansumfood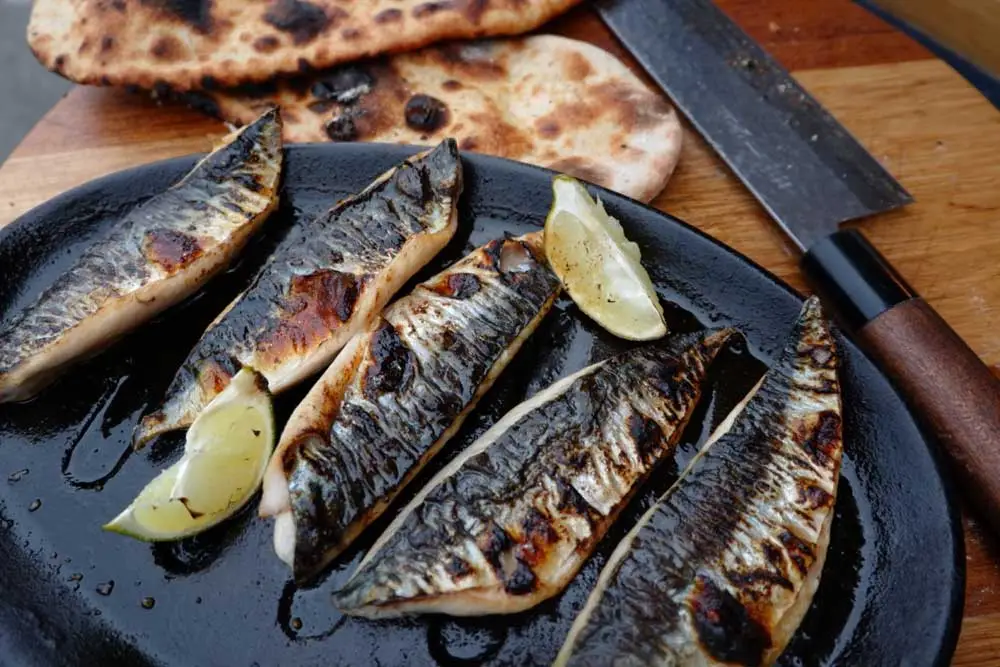 Photo credit: ANSUM
Ansum Food Co started out in Mawgan Porth in 2016, when Amie and John converted a French horse truck into a wood-fired kitchen. Passionate about keeping things local, since then they have been cooking on the fire all over Cornwall. Often parked up footsteps from the beach, favourite spots include Watergate Bay and Mawgan Porth.
"This dish was one of the first meals that left the hatch of our truck, and it went down an absolute storm. You can get fresh mackerel in abundance in Cornwall in spring and early summer – catch your own or visit a local fishmonger for the freshest available." John Stamp.
Makes 4
Ingredients
4 mackerel fillets – ask your fishmonger to fillet your mackerel, unless of course you
have caught your own, in which case, find the sharpest knife and a steady hand.
Dough
Don't be daunted by making dough. It can be fun, everyone can get involved, and it doesn't have to be perfect.
500g bread flour – we use The Cornish Mill House, St Newyln East
300g warm water
20g salt
20g fresh yeast (5g dried yeast can be used)
Pickles
1 cucumber – slice thinly/mandolin
100ml cider vinegar
50ml water
50g sugar
Pinch salt
2 sprigs of dill
Tartare Sauce
Mayonnaise (we make our own but it's not a sin to use shop bought)
1 tbsp gherkin – chopped
1 tbsp capers – chopped
1 shallot – finely chopped
1 lemon – zest and juice
Flat-leaf parsley – chopped
4 handfuls of rocket
4 slices of lemon
Cook it up
Dough
To make the dough, combine all your ingredients in a large bowl and get kneading.
15 minutes by hand should do it.
Split the dough into four portions, make into a ball, dust with flour and leave covered
with a tea towel until doubled in size (approx. 2 hours.)
Use plenty of flour and start to shape your dough – you can use a rolling pin at this
point.
Fry each flatbread in a medium hot pan for a couple of minutes on each side (you
can let them cool and finish them on the BBQ).
Pickles
For the pickles, make your brine by combining the vinegar, water, sugar and salt.
Simmer on a low heat for five minutes.
Meanwhile slice your cucumber thinly and add to a kilner jar (or jam jar).
Pour over your pickling brine and add the dill, leaving the lid ajar until completely
cooled. This can last in the fridge for a week.
Tartare sauce
Chop up all your ingredients for your tartar sauce, stir them up and season with
salt, pepper and lemon juice.
Mac Doughs
Light a BBQ and start to heat your flatbreads – they won't take long so keep an eye
on them.
When they are hot, pop them on a plate and add a good spoon of tartar sauce and a
handful of rocket.
Cook the mackerel skin down on a very hot BBQ, flip them if needed after a couple
of minutes.
Add your mackerel fillet on top of the rocket, throw on some pickles with a squeeze
of lemon and a pinch of salt.
Fold it up, pack it up and head to the beach to tuck in!
HENK'S BEACH BUNS
Trevisker's Kitchen Padstow
treviskers.com
@treviskerskitchen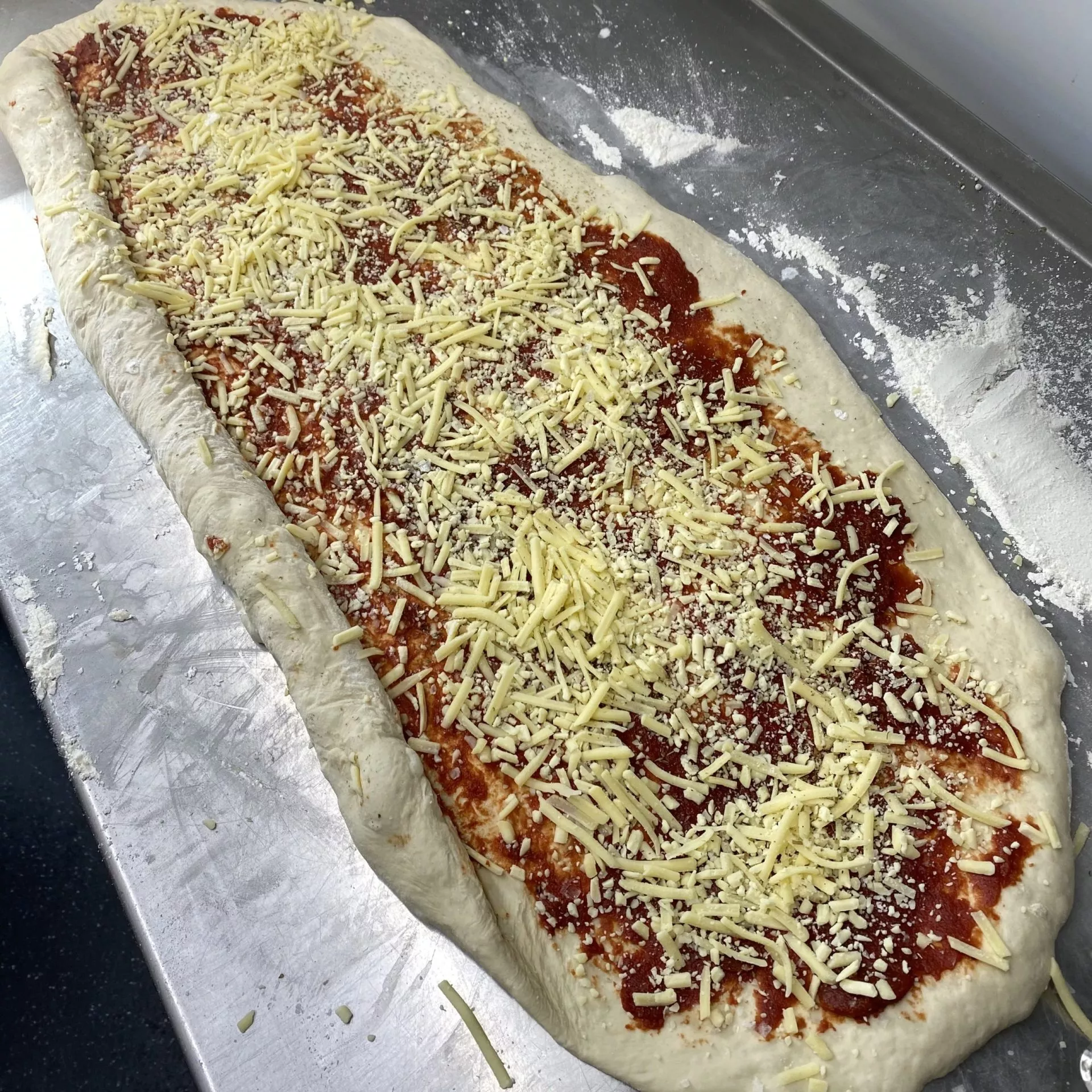 Photo credit: Trevisker's Kitchen
While known for his succulent steaks, building on decades of know-how from his cattle-farming grandfather, South African-born Henk de Villiers Ferreira – based at Trevisker's Kitchen on the outskirts of Padstow – is now very much part of the culinary landscape of Cornwall.
"My beach bun is where pizza meets the Chelsea bun! They're simple but delicious, and the best part is, you can put whatever you like in there. Bake them up at home then share them round at the beach. Forget the cutlery, just enjoy."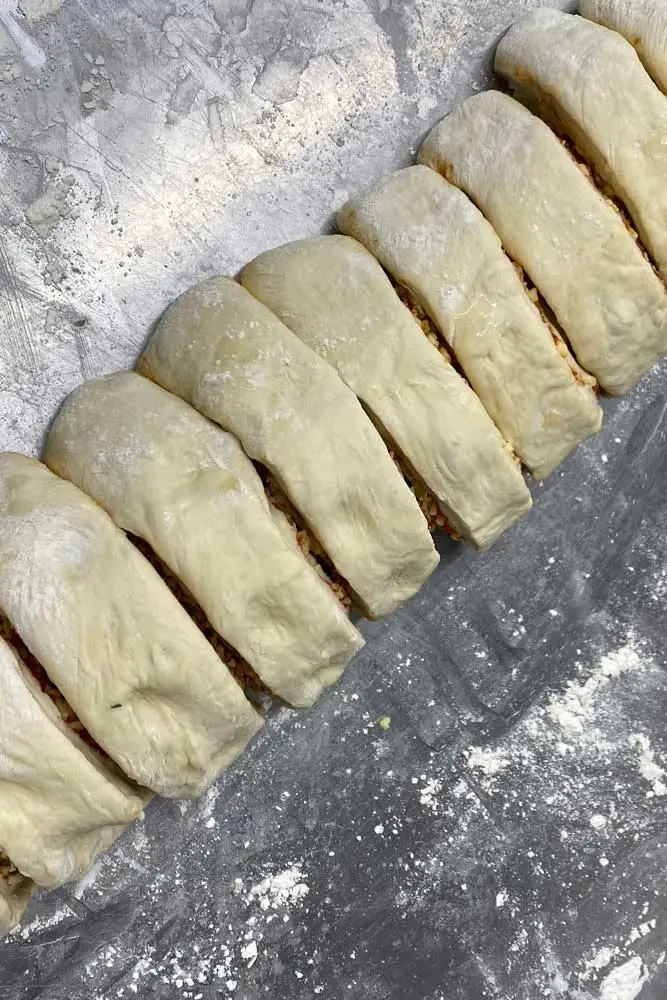 Photo credit: Trevisker's Kitchen
Ingredients
1 pizza dough (shop-bought is fine)
Tomato purée
Grated cheese (cheddar or mozzarella)
Olive oil
Oregano
Salt & pepper
Cook it up
Roll out your pizza dough.
Smear on a layer of tomato purée.
Sprinkle with grated cheese.
Roll up your pizza dough.
Slice into rounds – these should look like little pizza swirls.
Place the rounds into an oiled up roasting tin.
Leave to prove for about 30 minutes.
Sprinkle a little cheese on top.
Season with oregano, salt and pepper.
Bake at 180C for 25 minutes.
Head to the beach.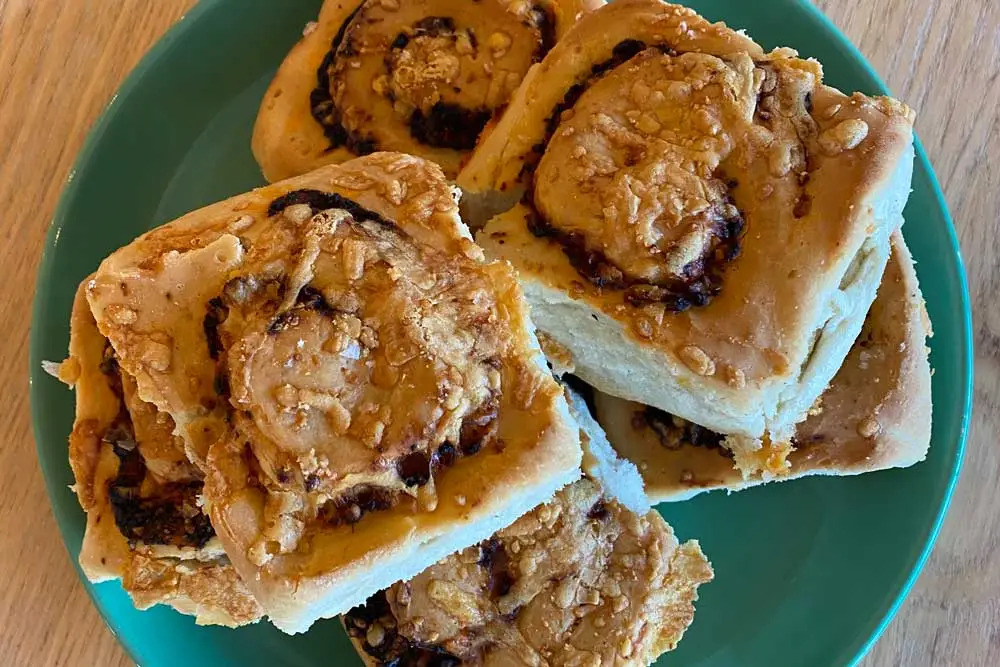 Photo credit: Trevisker's Kitchen
CRAB SAFFRON AND TOMATO TART WITH KOHLRABI REMOULADE
The Packet Inn, Roseudgeon, Penzance
thepacketinn.co.uk
@thepacketinnsmokehouse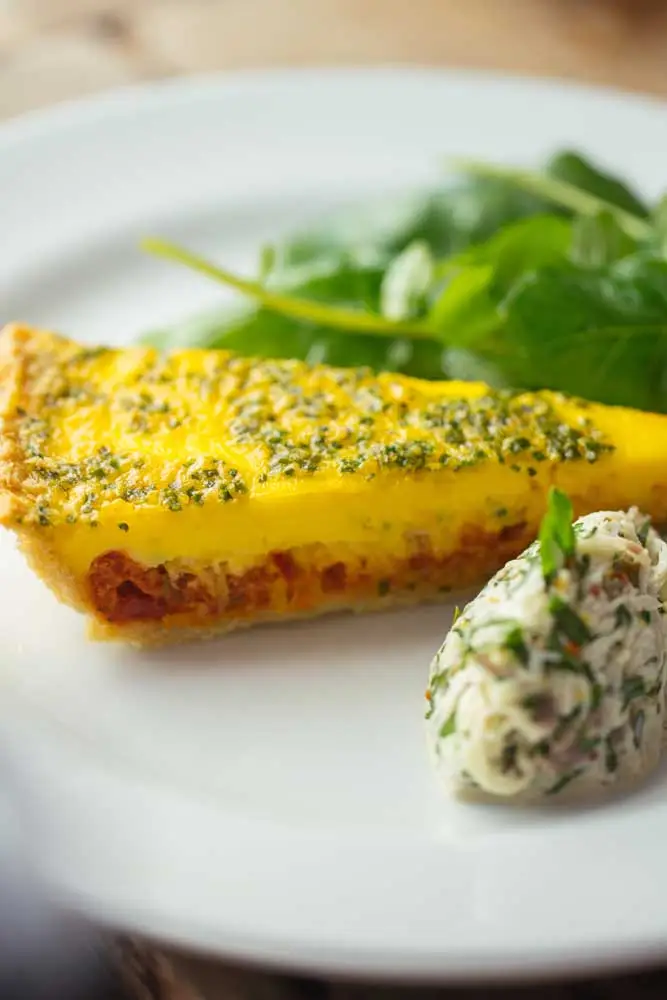 Photo credit: The Packet Inn
Ben Tunnicliffe and Matt Smith are making the most of The Packet's rural location, with meat and fresh produce from the surrounding farming country, as well as seafood from Newlyn. Local sourcing and seasonality dictates, with a tempting array of small plates that evolves on a daily basis.
"This is a tasty Cornish take on a savoury tart and a great way to enjoy local crab meat. Cut the tart into slices and store in an air-tight container, add a tub of the kohlrabi remoulade too and pop in a cool bag – you'll have a special centrepiece for your picnic!"
For the pastry:
Ingredients
12 inch fluted loose bottomed tart ring
300g plain flour
170g cold diced butter
1 egg beaten
Pinch of salt
Cook it up
Pre-heat the oven to 175C.
Rub the butter into the flour until it resembles breadcrumbs (or blitz in a food
processor). Add the salt and the egg and bring the mixture together as a dough. Rest
the dough for approx. 20 mins.
Roll out to the thickness of approx. a 50p
Line the tart case, pressing the pastry into the edges of the tart ring. Rest for 20 mins
in the fridge.
Then either dock using a fork or line with silicone and baking beans. Bake in the pre-
heated oven until golden brown and cooked, around 12-15 mins.
Remove from the oven and brush with some beaten egg, then return to the oven
until the egg has set which should take about 3 – 4 mins (this provides a barrier to
the pastry to keep it crisp).
For the tomato sauce:
Ingredients
1 large onion, diced
3 cloves garlic, crushed
Sugar
White wine vinegar
400g chopped tomatoes
Picked and chopped fresh thyme
Cook it up
Fry the onions and garlic in a little oil until softening and starting to colour.
Add sugar and caramelise. Deglaze with the vinegar and reduce until almost dry.
Add the tomatoes and cook until thick and intensely flavoured, then taste and season
with salt and pepper.
For the tart:
Ingredients
5 tbsp tomato sauce (see above)
4 oz brown crab meat
6 oz white crab meat
½ pt double cream
2 whole eggs
1 egg yolk
A good pinch of saffron
Salt and pepper
Fresh herb such as dill, tarragon, chervil
Cook it up
Pre-heat the oven to 140˚C.
Bring the cream to the boil with the saffron and leave covered to infuse for 20
minutes or so.
Mix the brown crab meat with the tomato sauce and adjust the seasoning if
necessary. Spread over the base of the tart.
Scatter the white crab meat over the top of the tomato and brown meat base and
scatter with fresh finely chopped herbs.
Re-boil the cream and whisk the eggs and yolk together – add the hot cream to the
egg mixture and mix thoroughly. Season to taste and pour into the tart case, then
bake at approx 140C for about 20 minutes or until the custard is set.
Kohlrabi Remoulade:
Ingredients
500g kohlrabi cut into matchsticks
4 egg yolks
4 tbsp white wine vinegar
1 tbsp grain mustard
¾ pt vegetable oil
¼ pt extra virgin olive oil
2 tbsp finely chopped capers
2 tbsp finely chopped gherkins
2 finely chopped anchovies
Freshly chopped parsley, chervil, tarragon and chives
Cook it up
Emulsify the egg yolks with the mustard and vinegar and season.
Continue to whisk while slowly adding the oil until all the oil is incorporated and is the
consistency of mayonnaise.
Add the herbs, capers, gherkins and anchovies and mix thoroughly.
Add the kohlrabi and stir in – taste and adjust seasoning if necessary.