When the sun is shining, you want to spend as much of your time away outside and on the beach as possible – and that includes meal times! We recently caught up with our friend Rupert Cooper of Philleigh Way Cookery School (on The Roseland Peninsula) and Cove Café (above the beach at Hayle looking across St Ives Bay), to get his tips for cooking on the coast.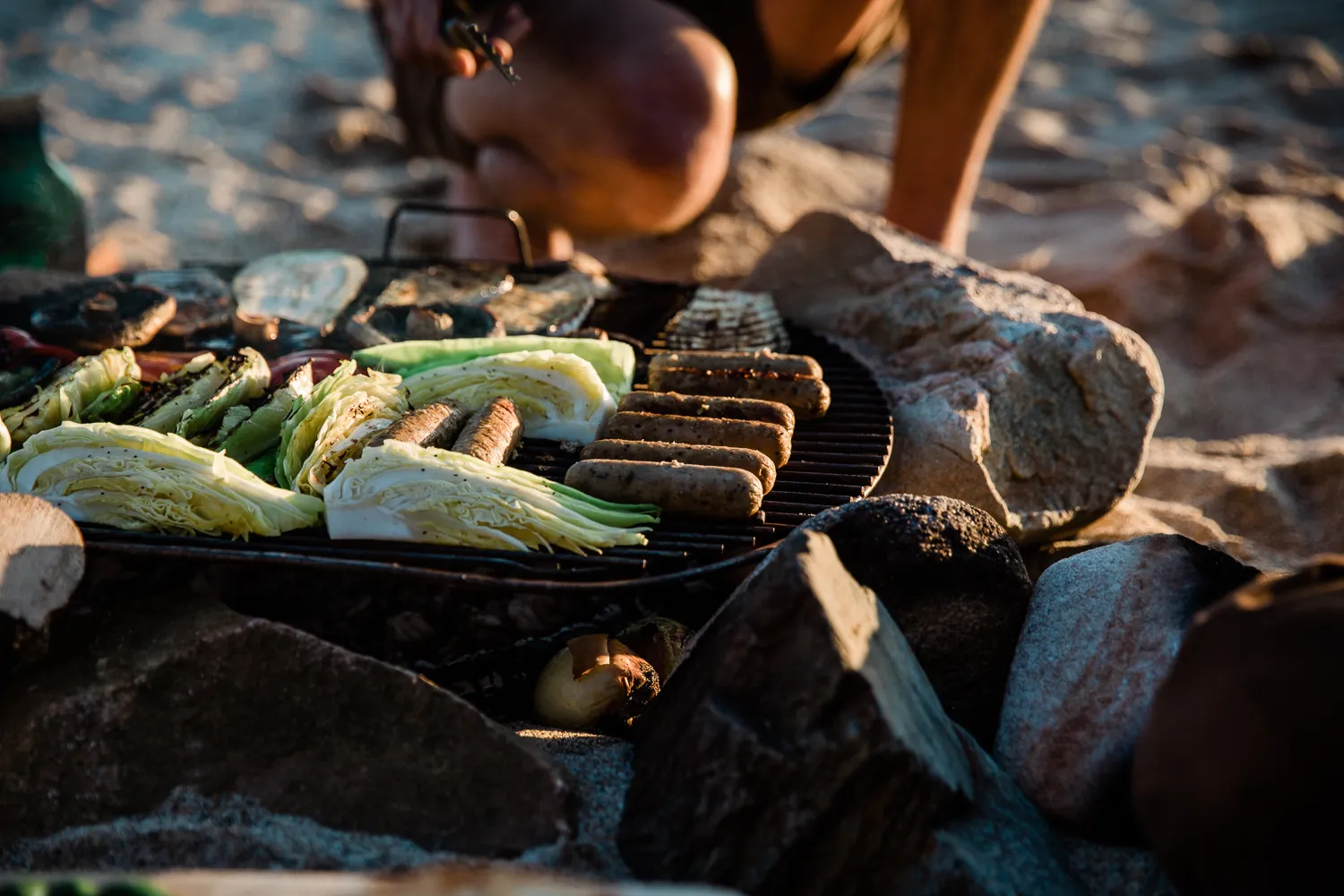 "Cooking can and should be as enjoyable an experience as eating, even if you're not in the comfort of your kitchen" Rupert tells us. All it takes, we're told, is a bit of preparation and a few tricks of the trade to make beach barbecues so much more than burnt bangers and burgers with a dusting of sand.
The first piece of advice that he has for us all, is to invest in a reusable BBQ such as the fold-able Flatdog made by Cornish company ProQ Smokers, which packs down into a case not much bigger than a large laptop. They're more efficient, great value for money over the course of their lifetime, and cool down quickly enough that you can carry it back to the car after finishing your dinner and drinks. It turns out that disposable BBQs are bad on a lot of levels. Sure, only a few inconsiderate litterers leave them smouldering on the sand, but even for the rest of us there's the fact that they cannot be recycled and over one million end up in landfill in this country each year. That's why Waitrose no longer sell them.
Rupert's tip, particularly for the ProQ Flatdog that he takes to the beach for family cook-outs, is not to overfill it with charcoal. "They get super hot, so it's better to start small and top-up."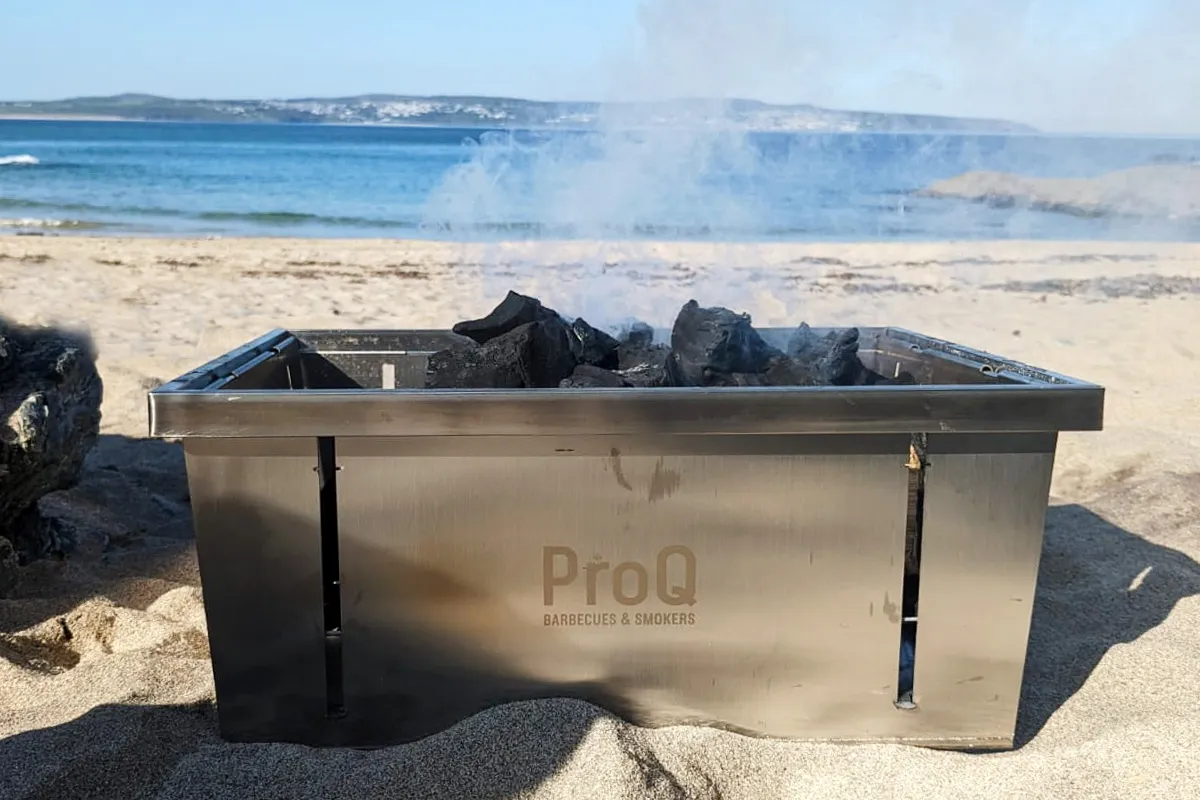 He also advises to take a paper bag of good quality lumpwood charcoal, and a couple of (natural) firelighters. There's no waste, no flavour taint from synthetic firelighters, and it's one less thing to carry back to your car or accommodation! You can check out Rupert's guide to different charcoals for barbecuing here.
"If you use good quality lumpwood charcoal then you can start cooking almost straight away. The only reason we're told to let a barbecue burn down is because most disposable barbecues or "easy light" charcoal is covered in chemical accelerants that need to burn off so that they don't taint your food. But with good charcoal you can start charring peppers and aubergines whilst there are still flames, and then start cooking meat or slower cook items once those have died down."
With our equipment sorted, what's best to cook for a delicious, easy, and stress-free meal? "Try cooked lobsters!" Rupert tells us. "They're really easy, there's no packaging or faff, and they're super tasty. Just warm them up with butter on the BBQ. Eat them as-is or follow our recipe for home-made tartare sauce or cucumber salsa to make in advance and take them in jars to make classic lobster rolls on the beach."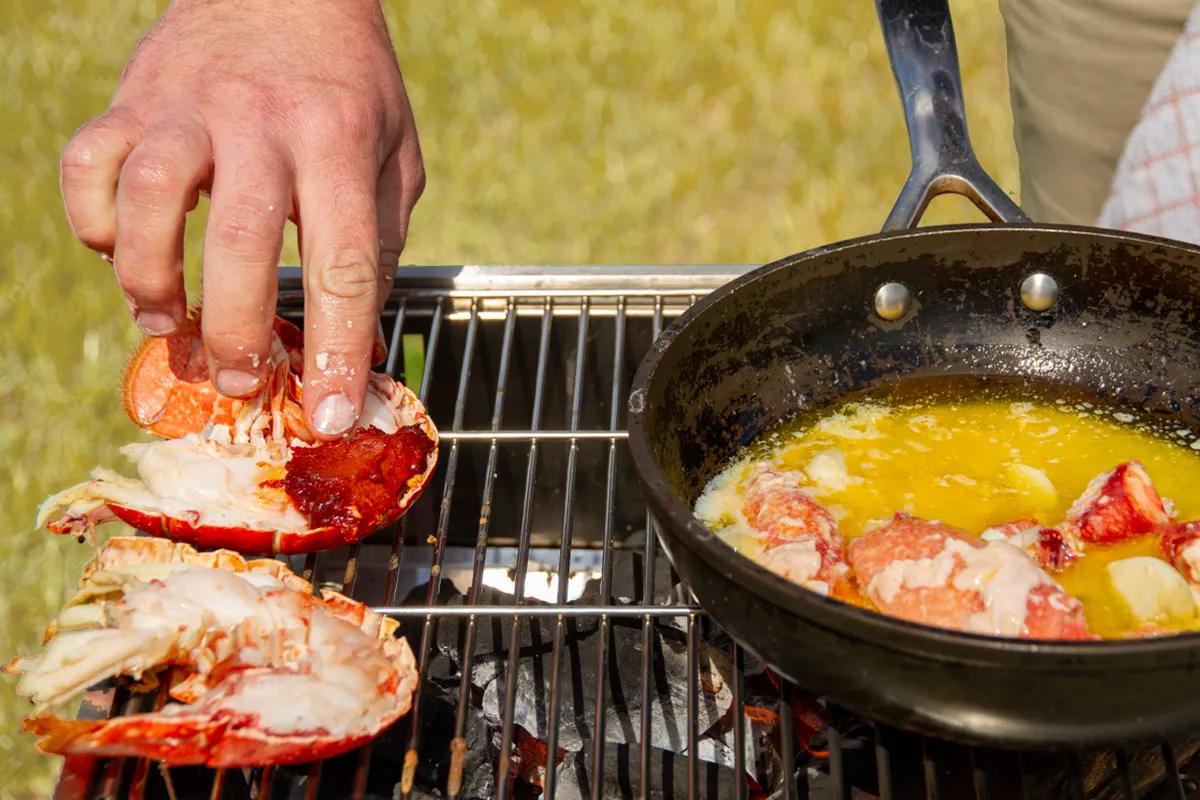 Another suggestion is to make simple kebabs and koftas in advance (lamb koftas are delicious and really easy) and you can either make simple flatbreads yourself to cook on the grill, or buy ready-made flatbreads to serve them in with a dash of plain yoghurt and cucumber.
If you're vegetarian or don't like the idea of dealing with meat when cooking outside or away from home, preparing portobello mushrooms with butter and herbs ahead of time then wrapping them in foil so that they're ready to put straight on the grill is a great option.
Any last tips from Rupert? "Ice cold drinks, of course! There are some incredible craft breweries, wineries and distilleries in Cornwall, as well as companies making low-and no alcohol alternatives. If you're enjoying great food and good times on the beach with family and friends, then make sure you don't let that part of the picture slip!"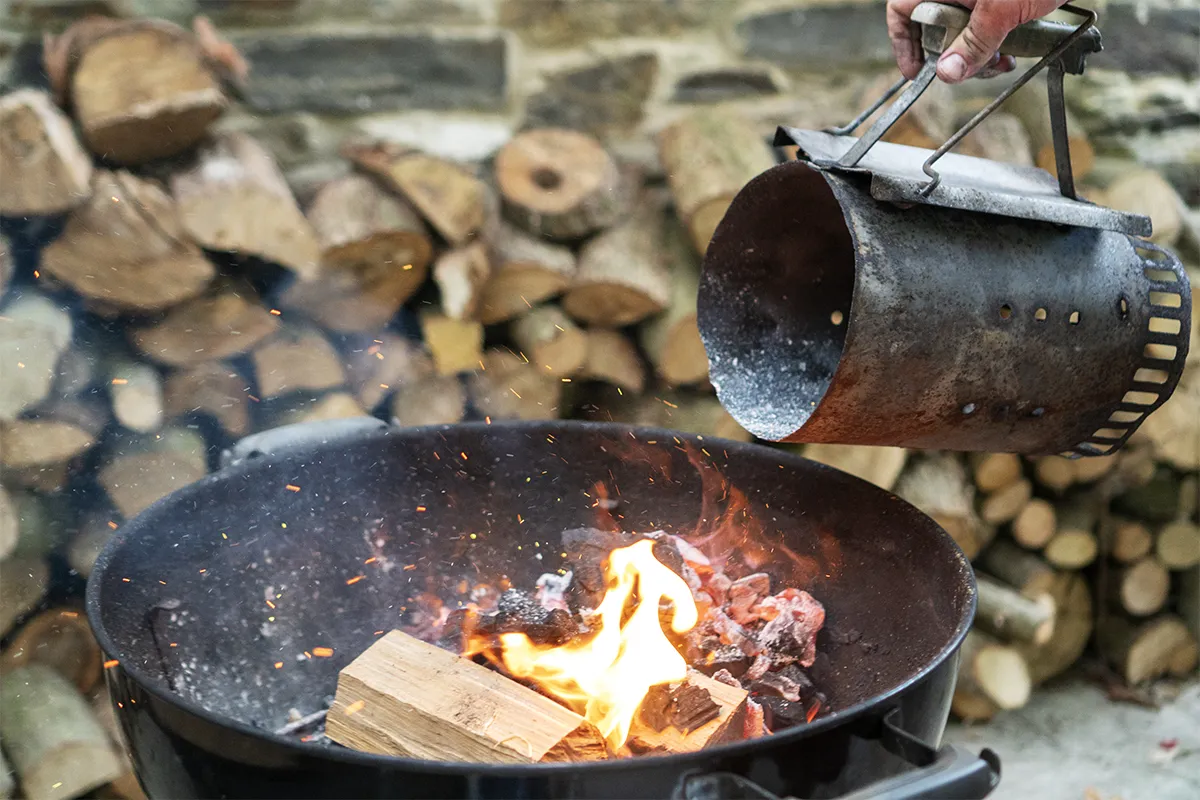 Enjoy the sun, be careful and sensible when cooking outside over fire given the recent dry conditions (this article is about barbecuing at the beach, but you might be barbecuing in a back garden), and if you're cooking and eating in a public space then please remember to leave no trace.
If you'd like to learn more about the art of woodfired cooking, or cooking in general, during your time in Cornwall then check out the calendar of cookery courses at Philleigh Way Cookery School on the beautiful Roseland Peninsula here. There are courses covering everything from how to make Cornish pasties or various fish and shellfish courses, through different cuisines, baking and of course, barbecue.
Alternatively, if you just want to eat his food with a view over the beach rather than cooking for yourself, Rupert's latest venture Cove Café, nestled in the low cliff above the sand of Hayle Beach with incredible views across St Ives Bay, is open daily from 9.30 – 4pm with special evening events such as their hugely popular Portuguese chicken nights a regular occurrence.