Fun, adventure and the childlike nature of play are all important to our wellbeing, allowing us to switch off from day-to-day responsibilities and embrace our inner child. We explore how you can incorporate play into your family holiday, and the benefits this can bring.
When you're in need of a real break, (like so many of us are right now), holidaying with the kids can be tricky. Their constant energy and endless need to be entertained often means you don't get much chance to truly relax, and you may find you aren't quite as revitalized as you'd hoped after a family day on the beach.
However, spending an uninterrupted week on holiday with your children is also an opportunity. A chance to switch off from day to day working life and responsibilities and get back in touch with your own childish side. Children are a great reminder of the importance of play, inviting you to become involved in games, adventure and exploration. Studies show that play for adults helps to release endorphins, improve brain functionality, and stimulate creativity. It can even improve memory and stimulate the growth of the cerebral cortex. Embrace a playful mindset and view your time away through younger, inquisitive eyes – it could bring a whole new lease of life to your beach days.
Here's a few suggestions for how to dial up the play in each moment of your beach stay.
Rise
Wake up with the peach tinted rays of the morning sun. Waking early aligns best with children's' natural body clocks and gives you a great start to the day, allowing you to make the most of the hours of beachside adventure which lie ahead. Over breakfast, let your children choose the task for the day (set a list for them to pick between if you think it's too risky) then plan together. Make a scavenger hunt list of things to look out for, play hide and seek with the things you need to pack – if you make the getting ready as much of the day as the outing, you'll enjoy yourselves from the very start.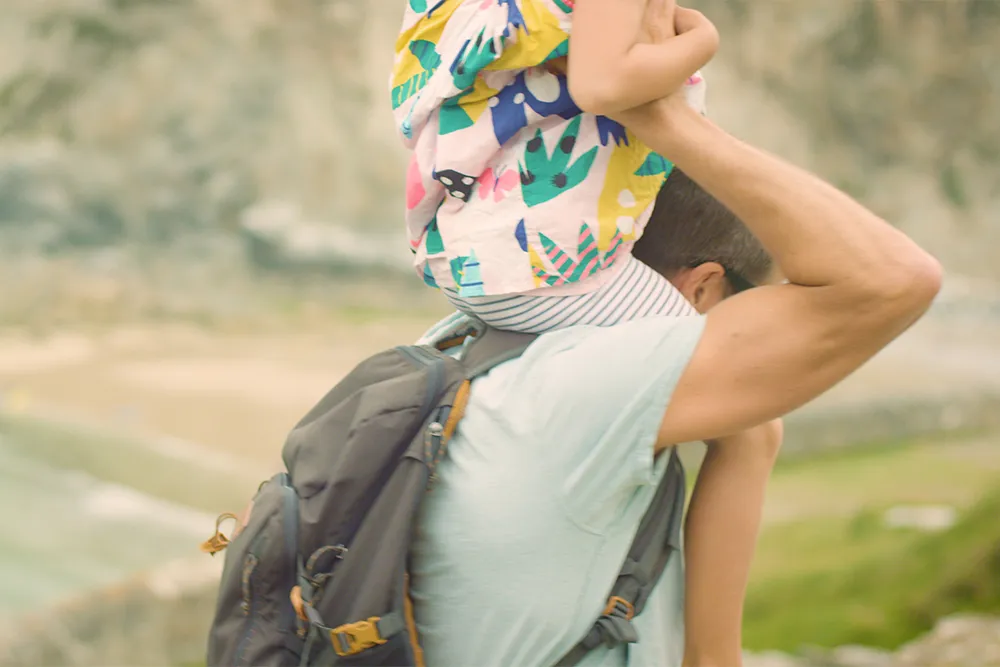 Roam
Head out, little feet skipping along dusty paths lined with Cornish montbretia and sea pinks. This is the most exciting moment of the day- when the anticipation for seeing the sea takes over, and you are yet to spot the first glimmer of blue in the distance. Make it a challenge- the first to spot the beach, a surfer, a bird….

Collect
The shoreline and surrounding coast are dotted with treasures- from seashells, flowers and mother of pearl to striped feathers, driftwood and smooth sea glass, start a hunt and see what you can find. Collect as many different things as you can, or pick one category and see how many different kinds of that thing you can find. There are hundreds of different patterned pebbles, types of shells, or varieties of seaweed you can gather and discover once you start to look. Through rockpooling secret ponds, scaling the shore or delving into the flora, collecting seaside treasures is a great way to while away the hours whilst finding keepsakes that hold the memory of these beach days. Whoever finds the best seashell wins!

Picnic
Make sure you've packed up plenty of fuel. Find a serene spot overlooking sea views and tuck in. Spread jam and dollop clotted cream on scones, the classic Cornish snack which kids love. Food is all part of the fun, so let the little ones get involved in assembling their snacks- don't worry about the mess! For more food inspiration, have a look at our Cook and Carry blog with ideas on beach friendly meals that can be easily transported from pan to sand.

Navigate
Help keep the little ones engaged on the walk home by letting them navigate the route. Do they remember any particular landmarks passed on the way? Do they recognise the route they mapped out earlier? Are there any detours or artefacts they want to look at? You could even have a go at reading natural signs- look at where the sun is in the sky and track its movements or examine the sea and how the tide has changed throughout the day. This will engage the kids in the elemental forces at play by the coast, giving them a fuller understanding of what nature can teach us. Read our Natural Signs blog here.

Relax
Once you've returned to your retreat, the kids should be tired out. If they still want to play, suggest drawing, journaling or scrapbooking moments of the day, or set up a board game out on your balcony. Your beach retreat is equipped with all the entertainment you need for an evening in, so you can sit back, relax, and indulge in a well-deserved glass of wine.